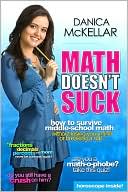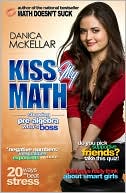 When the Penguin Group publishing company contacted me to see if I was interested in reviewing Danica McKellar's popular books, Math Doesn't Suck, and Kiss My Math, I jumped at the chance. No, it wasn't for the free books. The time I spend reading and writing doesn't justify the cost savings. I review products I believe in. Period. For the sake of full disclosure, I received a free copy of each of the two books. That's it.
Danica McKellar is a well-known actress, a mathematician, and an advocate for Math education. I'm delighted to see people with a tremendous amount of influence use that influence to make Math more accessible.
"Math Doesn't Suck" teaches pre-algebra topics. "Kiss My Math" is the sequel, covering more advanced pre-algebra topics. The books are targeted toward middle school girls. I love both books and I'm a bit beyond pre-algebra. The reason I love them is because Danica has a relationship with her readers that I've never seen before in any Math book. She sets out, and I believe she succeeds, in making her readers feel comfortable. There's so much Math phobia in the world and I think Danica does a brilliant job of getting beyond that. Comfort building tools include:
Cute illustrations
Hand-written problems and solutions
Quotes and testimonials from readers
Stories from Danica's life
Applications to real world problems
Very engaging writing. Danica knows how to relate to teenage girls.
While Danica knows how to speak to her audience she certainly doesn't dumb down the Math. She definitely covers a fair amount of content in both books.
I absolutely love this quote from "Math Doesn't Suck."
I think a lot of girls dumb themselves down for boys. I don't see the point. I'm smart, and I also have a boyfriend. Besides, the guys you have to dumb yourself down for don't make good boyfriends. -- Elyssa, 17
The Associated Press made a related comment:
Danica McKellar has a message for girls: Cute and smart is better than cute and dumb.
It's no wonder that McKellar's books are the two bestselling Math books on Amazon as of this writing.