Welcome to the post-Mother's Day edition of Wild About Math Blogs!
Carnival of Mathematics #77 has been posted at Jost a Mon.
Scientific American just republished a wonderful article they originally published in 1961: The Mathematician as an Explorer. Hat tip to Shecky.
Murray at squareCircleZ has a very thought provoking article: Is there a place for invention in math?
Each time one prematurely teaches a child something he could have discovered for himself, that child is kept from inventing it and consequently from understanding it completely.
Statistics lovers might enjoy this little gem from xkcd: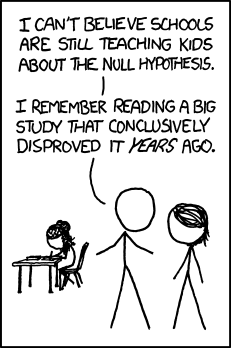 James Tanton has a bunch of new videos on formulas for volume and area for various shapes. Here's one:
[youtube]http://www.youtube.com/watch?v=XS4xSytnAm8[/youtube]
For those of you into Mathematica and twitter, Wolfram now has a new Mathematica tip every day on twitter.
I'll leave you with this fun quote:
The secret to success is to start from scratch and keep on scratching. – Dennis Green
Hat tip to thnik again!