[Note: I created this podcast for one of my other blogs. It's not math-related but folks who are interested in the Web and in how intelligent agents can navigate the web might enjoy the audio. ]
---
I produced this podcast because I was curious about intelligent web agents and noticed this new edition of Michael Schrenk's Webbots, Spiders, and Screen Scrapers.


Why read Webbots, Spiders and Screen Scrapers?
Gain a bottom-up understanding of what webbots are, how they're developed, and things to watch out for.
Understand the mind set difference between traditional web development and webbot development
Learn how to get ideas for great webbot projects
Discover how PHP/CURL facilitates advanced file downloads, cookie management and more.
Reenforce what you learn with projects and example scripts
Learn how to leverage WebbotsSpidersScreenScraper_Libraries, the common set of libraries that the book uses to make writing webbots easy.
Learn from the author's 11 year career of writing webbots and spiders.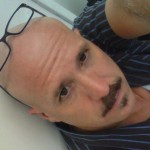 About the author
Michael Schrenk has developed webbots for over 17 years, working just about everywhere from Silicon Valley to Moscow, for clients like the BBC, foreign governments, and many Fortune 500 companies. He's a frequent Defcon speaker and lives in Las Vegas, Nevada.