I'm excited to announce that Volume Two of Matthew Watkins' "Secrets of Creation" trilogy, "The Enigma of the Spiral Waves," is now available.
From the author's web site:
The Enigma of the Spiral Waves takes its readers further into into the workings of the number system. Continuing to make use of Watkins and Tweed's innovative visual approach to communicating advanced mathematical ideas without any need for formulas, equations, x's or y's, the reader is introduced to the mystifying "Riemann zeros" and the notorious Riemann Hypothesis. It's eventually explained how the weird set of frequencies met at the end of Volume 1 have all of the mathematical "fingerprints" necessary to strongly suggest that they correspond to the vibrations of some kind of (unknown) "system". As Oxford mathematics professor Marcus du Sautoy has said, "We have all this evidence that the Riemann zeros are vibrations, but we don't know what's doing the vibrating."
I loved Volume One, "The Mystery of the Prime Numbers," and I reviewed it here.
Shecky at the Math-Frolic Blog has a great interview with Dr. Watkins here.
I will be doing a podcast interview with Dr. Watkins so stand by for that.
More information about the trilogy is available on the author's site.
A while back I received this email from Jeff Zilahy.
Dear Mr. Lederman,

I came across your blog, Wild about Math, and I too share your enthusiasm for the world of mathematics. In fact, I wrote a popular math book last year that I wanted to bring to your attention. It is called "A Cultural Paradox: Fun in Mathematics". While you can always purchase it at places like Amazon.com, you can also read the entire book for free (and download the PDF if you like) at Google Books. All I ask if you read it and like it to please write me a review. I am a high school math teacher in Philadelphia and I want to write another book so every review counts!

Thanks in advance,
Jeff
Here's Jeff's introduction to his book.
Do you think "math = awesome" is a true statement? After reading this book, you might change your answer to a yes. With "jargon avoidance" in mind, this recreational math book gives you the lowdown on why math is fun, interesting and relevant in today's society. Intended for anyone who is curious about math and where it is circa 2010. This book is less concerned with exploring the mathematical details than it is with exploring the overall impact of various discoveries and insights, and aims to be insightful, cutting edge-y and mathematically rigorous.
"A Cultural Paradox: Fun in Mathematics" is a fun, light and quick read. It's a nice book for a young person who enjoys Math or science. It appeals to our natural sense of curiosity about math and numbers through enjoyable little stories.
Jeff's book is indeed available at Google Books here. You can buy it as a Google Ebook for $1.99 USD or you can download the PDF for free from this page. Click on the "PDF" link to download the book. And, leave Jeff a review.
Princeton University Press recently sent me a list of their upcoming popular Math books. I'm looking forward to reviewing each of them when they're published. I've given the publisher some attention in this blog as I enjoy their books.
In Pursuit of the Traveling Salesman: Mathematics at the Limits of Computation by William J. Cook (January 2012)
Cook tells the story of one of the most famous math problems in the world. He starts in the 1800s when Irish mathematician W. R. Hamilton first defined the problem and brings the story to current, high-tech attempts to solve it.
On the Princeton University Press site and on Facebook
---
Magical Mathematics: The Mathematical Ideas that Animate Great Magic Tricks by Persi Diaconis & Ron Graham (November 2011)
Diaconis and Graham merge two passions – card tricks and math. In this book you will learn step-by-step how to amaze your friends with card tricks! Then you will learn the math that guarantees the startling results.
On the Princeton University Press site and on Facebook
---
PACKT Publishing has just released a book: Sage Beginner's Guide. Sage is open-source Math software that combines a number of Python programs into one interface. Sage is in the class of programs that Magma, Maple, Mathematica and Matlab are in. The book is available in both electronic and paper formats. The publisher is sending me a review copy. I'll share my impressions of the book when I receive it.
Princeton University Press just published this book: The Best Writing on Mathematics 2010.
I've not read it so I can't comment on it but it does look interesting.
Amazon has it.
Thanks to Denise at Let's Play Math I learned about this great sale at Lulu. Take $20 off any order of $20 or more. Valid through 11/30/10 in the US only. Wow! Many books are print-on-demand and you'll have to pay for shipping. But some, like this one from my hero James Tanton, are free with the coupon.
Many properties of primes are very difficult to determine and prove. Here's an exploration that's within reach of many of us:
What is interesting about the difference of the squares of most any two primes? In other words, what is interesting about p12-p22 for most primes p1 and p2? When does this property hold? Prove your assertion.
I got the idea for this puzzle/exploration from Standup Maths and adapted it to make it harder!
Every now and then I like to buy old Math books. I buy them on Ebay. Most of the books I buy are from the early 1900's or the tail end of the 1800's. Yesterday, I happened upon this book:
Yes, it's from 1863. Yes, I paid $6.50 for it and there was no shipping charge. What's the book about? Beats me. I'm not quite sure what Analytical Arithmetic Antique College Math is. If you think you know, leave a comment. What condition is the book in? Dunno but for six and a half bucks I'm not complaining!
Purdue Professor of Computer Science Greg N. Fredrickson is an absolute master of geometric dissections, the art and science of cutting up one or more geometric shapes and rearranging the pieces to form other shapes.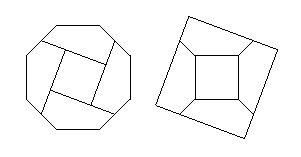 One example from Fredrickson's web-site for his first book, Dissections: Plane & Fancy, is the dissection of a regular octagon to a square using only five pieces! This is quite a feat.
Creating these dissections is closely related to the field of tessellations which studies how planes (flat surfaces) can be tiled with geometric shapes.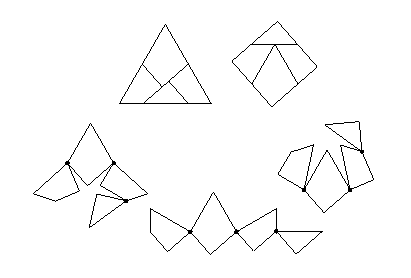 Fredrickson's second book, Hinged Dissections: Swinging & Twisting, explores dissections in which the pieces of the figure being dissected are held together with imaginary hinges. When parts of the figure are rotated about the hinges another figure is formed. An extremely elegant dissection is that of an equilateral triangle to a square with only four pieces!
If you want to build your own triangle-to-square hinged model using foamed rubber check out these directions. Be sure to watch the fun animation at the bottom of the page.
I had never given much thought to how area codes were selected. I always assumed they were random three digit numbers that, once upon a time, always had 0 or 1 as their middle digit. This morning I was browsing The Universal Book of Mathematics: From Abracadabra to Zeno's Paradoxes and read an interesting article explaining how early area codes were determined. Here are some snippets from that article:
North American telephone area codes seem to have been chosen at random. But there was a method to their selection. In the mid-1950s when direct dialing of long-distance calls first became possible, it made sense to assign area codes that took the shortest time to dial to the larger cities. Almost all calls were from rotary dials. Area codes such as 212, 213, 312, and 313 took very little time for the dial to return to its starting position compared, for example, to numbers such as 809, 908, 709. The quickest-to-dial area codes were assigned to the places expected to receive the most direct-dialed calls. New York City got 212, Chicago 312, Los Angeles 213, and Washington, D.C., 202, which is a little longer to dial than 212, but much shorter than others. In order of decreasing size and estimated amount of telephone traffic, the numbers grew larger: San Francisco go 415, Miami 305, and so on. At the other end of the spectrum came places like Hawaii (the last state annexed in 1959) with 808, Puerto Rico with 809, and Newfoundland with 709…
At another time I will review the book - it is a wonderful encyclopedia of mathematical terms and concepts, and it is sprinkled with nice illustrations and puzzles.